We ain't in Texas anymore Tonto
In this, the Lone Angler Expedition series, I want to point out the dual meaning of Tonto.  Tonto is the character in the Lone Ranger that some, maybe only few, remember from their childhood in the radio/television series.  In Spanish, the word tonto, (note the lower case) also means or equates to dummy or fool.  For the purpose of this story its use is in parody for my alter ego side kick; me.  In this I am both the Lone Angler; Texican Fly Fisher, and tonto—the knuckle headed fool who trips over his own two feet.  You'll see what I mean.
On my way to Missouri I was feeling something awful.  I was leaving my cherished Texas behind me in the rear view mirror to go play soldier for two months at Ft. Lost-in-the-Woods, aka Ft. Leonard Wood.  I knew I'd be missing the beginning of Trout season on the Guad being gone, and I had just purchased my first float tube still on its way to me in the mail.  Just as things were falling in together—my knowledge, ability, and gear—they were falling apart.
My consolation prize was in knowing that there was fly fishing to be had in Missouri.  I was behind the power curve again by being in new waters, but an adventure was in the works if I had the courage go west guns-a-blazing.  Err—well north easterly in this case.   No matter, it was time for a fishy round-up.  Hi-yo Silver (my truck is actually silver and now its new name) AWAY!!!
My first chance at the water I learned really quick that I wasn't in Texas anymore.  For ones, there was water unlike my beloved waterless, drought stricken, it-ain't-rained-in-forever, beautiful state.  For seconds, the water was cold-cold.  A week from now I'd need waders and not just my Lone Star cargo shorts waders.  For thirds, I didn't know what kind of fish I'd find—no Guads!  Now foolish me, the tonto that I am, I left my water shoes at the casa.  Not letting that stop me I wagon wheeled into the river rocking my flip fop shower shoes and charged unshaken into the watery showdown.  tonto.
Now, being a beginner I'm just happy that I hooked up with some fish.  Of the four boogers to quarrel, three of them hooked up to hand.  All of them about the size of my hand though.  Pretty fish anyways.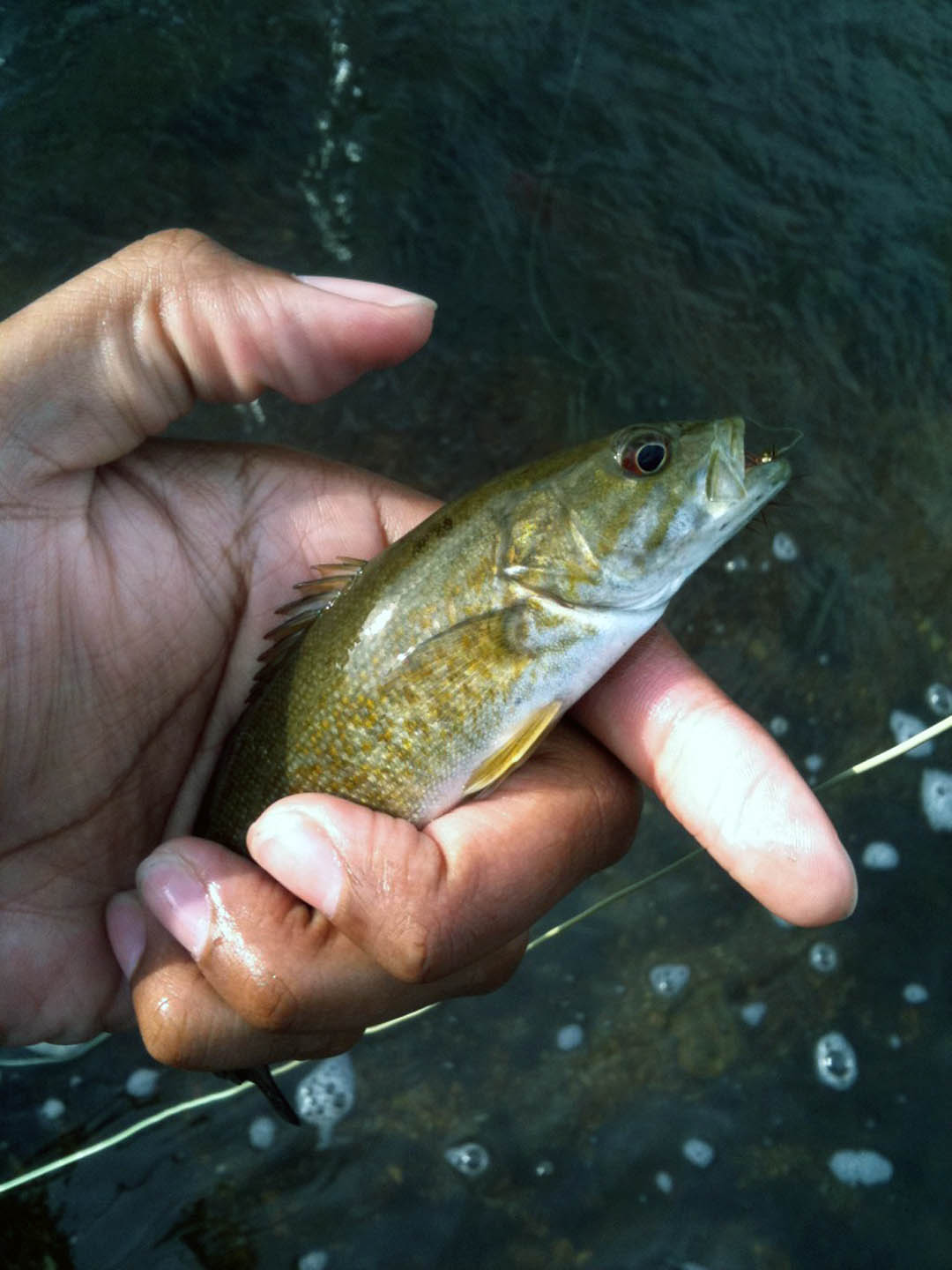 I did have to remind myself of a lesson I learned in Texas.  Set the hook.  The first small mouth I caught was lucky—as was I, that I caught him with such a soft set.  Tonto reminded me, him say, "Kemo Sabe, set hook like you mean it."  And so I did.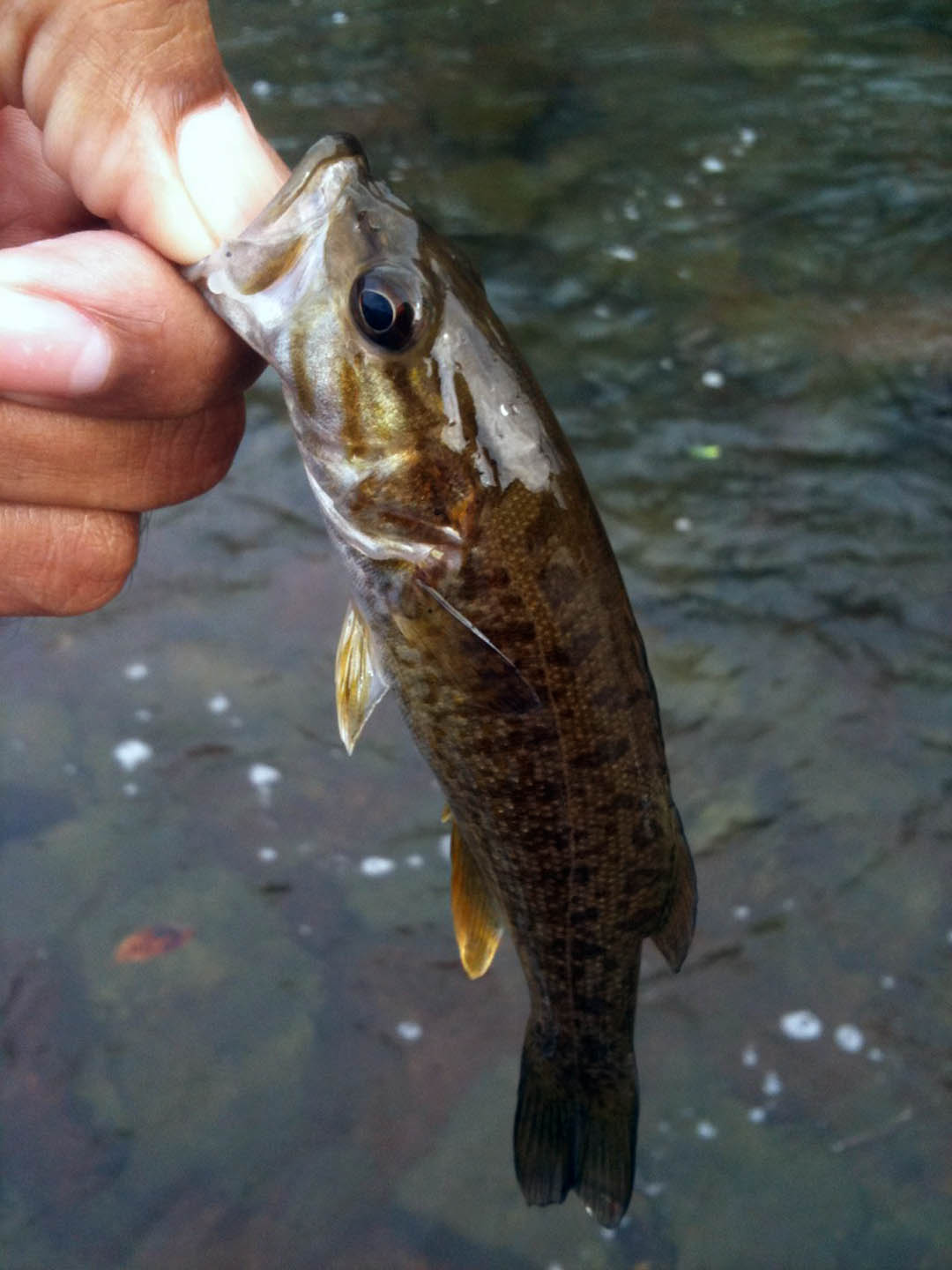 The second SMB and my little Longear Sun Fish I caught both got a nice little leap at the set.  I can only imagine the "Whoa Nelly!" they said to themselves as I was yelling "Yee-haw!" aloud.   So far there had been nothing to brag about even though I'd call it a successful day.  The Lone Angler was ready to ride off into the sunset a hero here at this point, but there's more of the story to tell.  See, tonto hasn't told you his part yet.
 I began by saying I charged into the river undaunted by the changes of flip flops on rocky river bed.  What the Lone Angler neglected to tell you, but tonto will (because it was his fault), was that walking around wasn't too easy.  In fact, it was downright difficult.  It was like riding a bucking bronc on roller skates after a hard night of drinking.  These shower shoes weren't cut out for this business.  They needed spurs or something.  Unfortunately, I didn't make the ride to the 8 second buzzer.  No, ten feet from the shore I decided I needed to swim.  It had to be impulsive because I didn't even think about it.  Before I could blink a misstep took me neck deep in the drink. "Tarnation" I cried!
No I didn't.  You know what I said.
Well, wet up to my neck I did a quick draw for my cell phone.  As fast as I went down was as fast as I came up and the phone was saved!  My hero!  That being said, I was able to save and share the last picture of the days showdown.  Enjoy!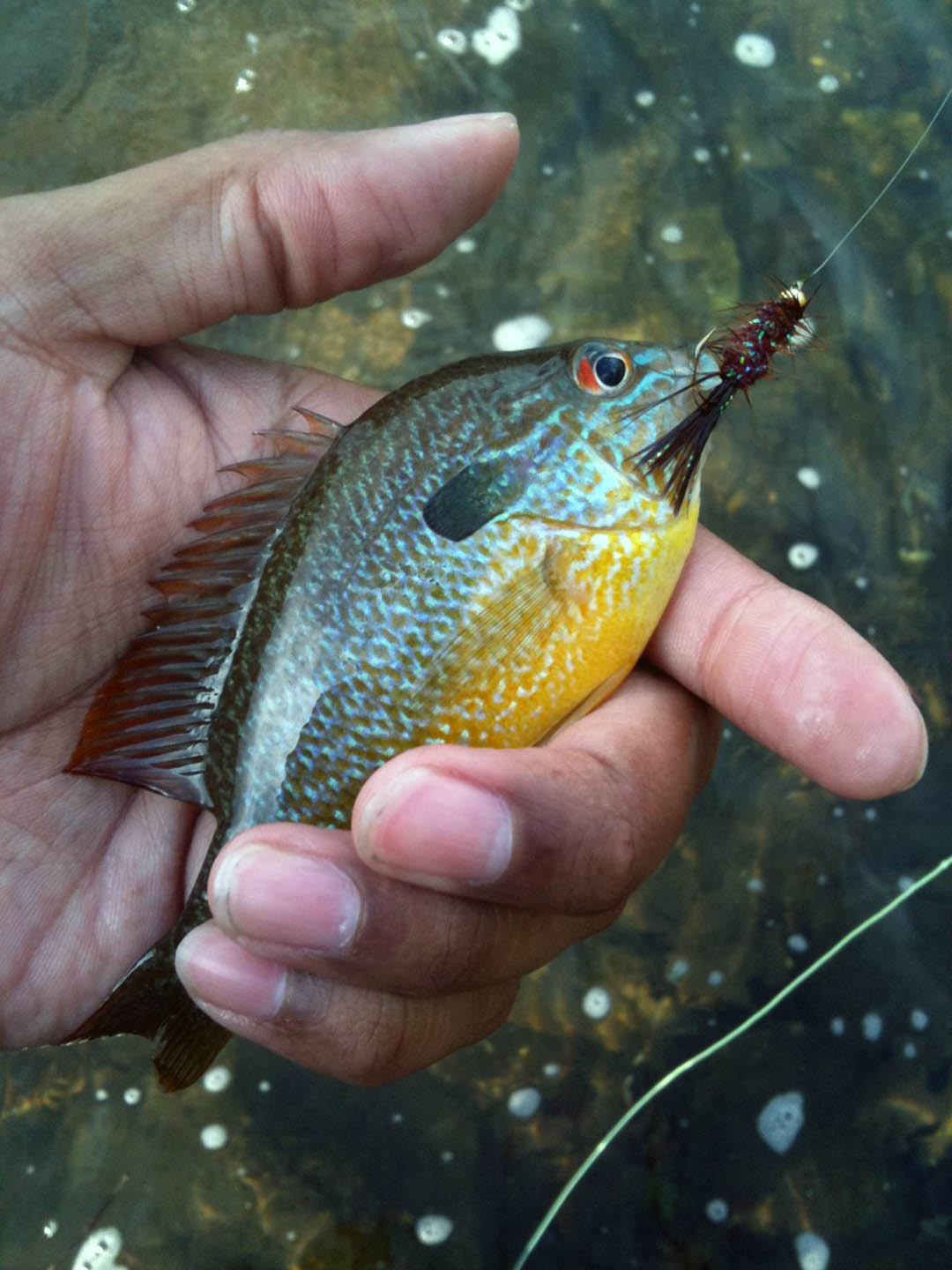 Ride on Cowboys and Cowgals.  This has been another adventure in my learning curve until the next one around the bend.  Until then, I'll see you on the high ground.
Part 2 of this article can be found here: Lone Angler Expeditions – Part 2: Yippie-Kai-Yay
-AirborneAngler